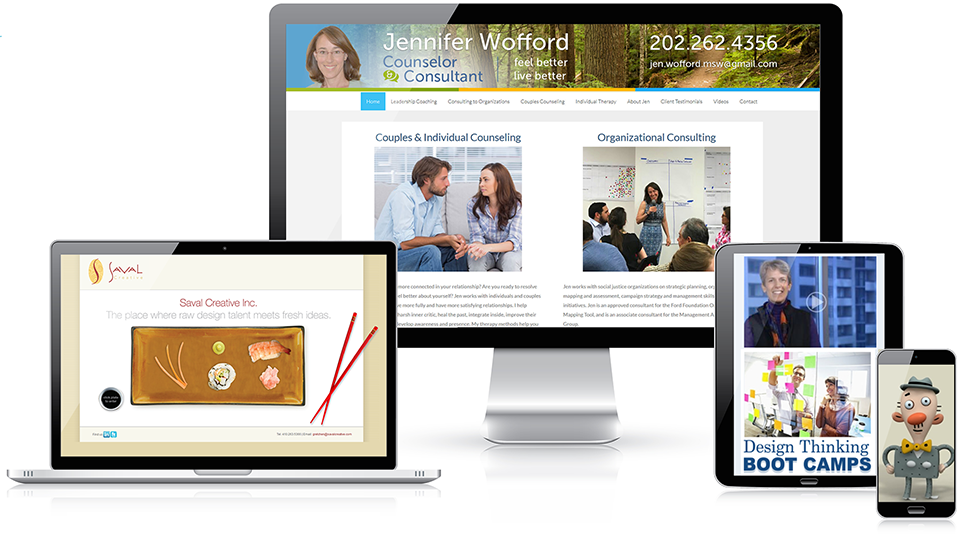 We make your website: Reliable, Beautiful, and Affordable.
We have been building and maintaining websites since 1999. As a constantly evolving medium,  we stay up with the latest trends in both technology and design to ensure your site looks and works great.
Our team has decades of expertise in web programming, graphic design, photography, animation and video. We bring a deep understanding of the technologies needed to publish your content online.
---
Website Design and Development
Most of our clients come to us because they need help with the technical details of keeping their website running. So feel free to skip over these details listed below as we know that you are most likely needing help with these very things. Just know that when you allow us to handle your website, we take care of these things, saving you time, money, and peace of mind.
1 year domain registration for one .com, .net, or .org domains.
1 year hosting service
1 year Secure https SSL Certification
Search Engine Optimization (SEO) is built into our sites from the beginning
Costs vary depending on complexity, but a good rule of thumb is to budget $100 per page for the initial website build.
A typical website for a small business normally costs between $500 to $3000 to build it. 90% of the sites we build cost less than $1000.
---
Website Maintenance Service
$150/month REDUCED! Now only $42.50/month
Similar to your car, a website requires ongoing maintenance to keep it running smoothly. Although it doesn't require oil changes, it does need software updates, security monitoring, and backups.
We are happy to offer one of the lowest prices in the industry for full service website maintenance.
We do this through an optimized maintenance strategy month after month. We also offer automatic billing, which greatly reduces administrative overhead for both us and our customers. All of these things allow us to complete your site's monthly maintenance in just 30 minutes labor per month.
No long-term contracts, cancel anytime.
30 minutes labor per month is used to take care of software updates, site backups, and security monitoring.
If you have additional edit requests, we address them within 48 hours and bill at the hourly rate, in 15 minute increments.
Compare this to maintenance companies that require a 1 or 2 hour minimum and you can see how we can keep your site updated without breaking the bank.
Ready to get started?
Contact us for a no-obligation website consultation
---
Need more information about annual costs?
Read on…
Thank you for your interest in allowing us to maintain your website.
Below is a comprehensive list of maintenance expenses you can expect for the entire year when using BHH Studio.
---
Annual Fees
The following services are renewed annually and paid to third parties to keep your site online. They cover the cost of registering your domain name, hosting, and renewing security software and certifications. These fees are set by the third parties, and subject to change. These fees are non-refundable. The good news is they are pretty low, considering the value they provide and that they only come due once per year.
| | |
| --- | --- |
| $ 20.00 | Annual Domain Name Registration |
| $ 144.00 | Annual Website Hosting |
| $ 12.50 | Annual SSL Certification |
| $132.00 | Annual Security Software for WordPress |
| $20.00 | Annual WordPress Theme renewal |
| $328.50 | Estimate of Annual 3rd Party Fees |